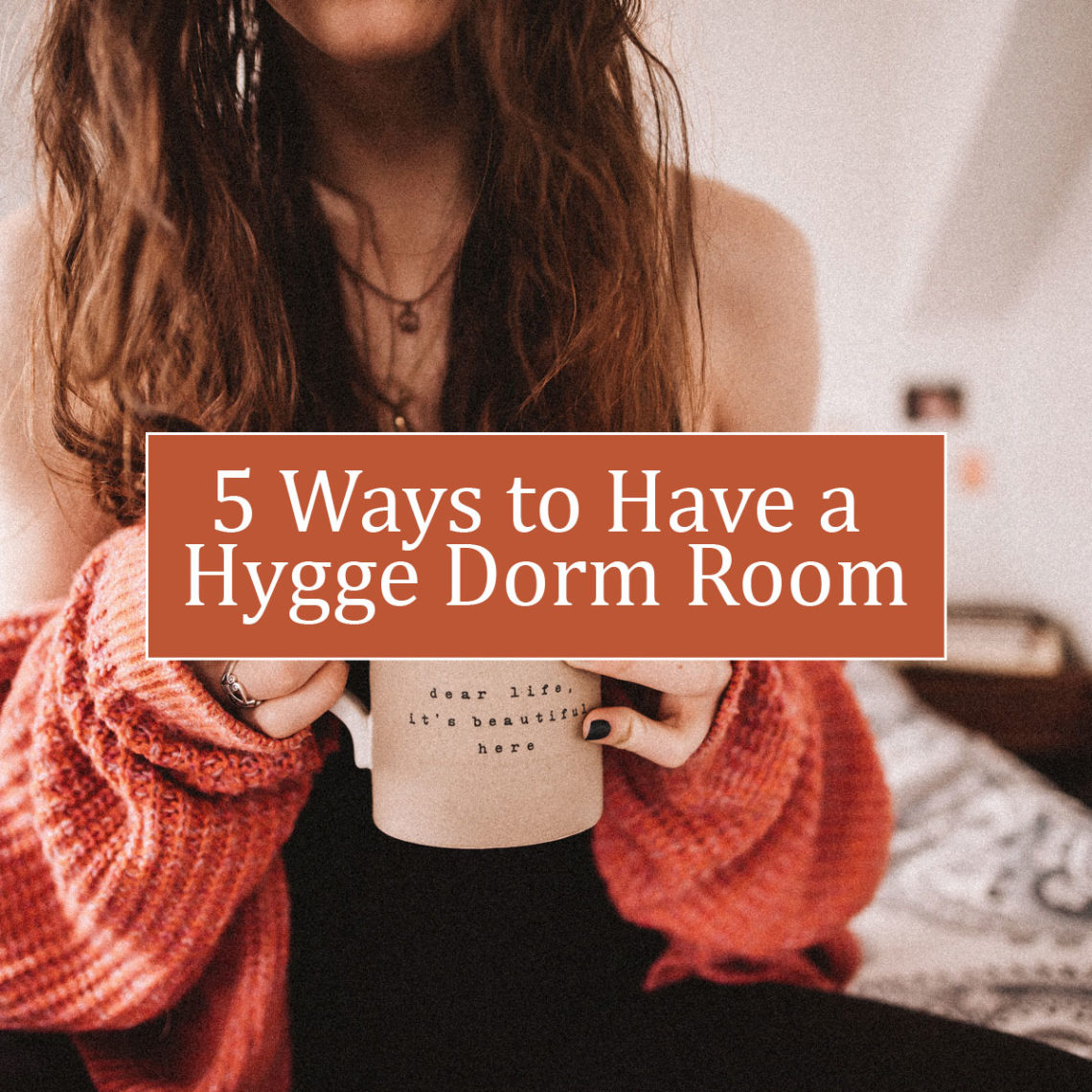 5 Ways to Have a Hygge Dorm Room
If you are as obsessed by all things hygge like we are, you probably know exactly where we are coming from when we want a hygge dorm room. But, for the few of you out there who still haven't learned what hygge is, let's start with a super quick refresher to learn what hygge is and why everyone is crazy over it.
Hygge (pronounced "hooga") is not easily definable with a single word. It's more about creating the feeling of comfort through the things you surround yourself with and the way you live your life.
What is hygge? Quite simply, hygge is the Danish art of being cozy. It is also a  lifestyle phenomenon that we are completely in love with. Who doesn't want to just be cozy and live comfortably? Moving into a dorm room does not sound like the coziest of things to do. Don't fret, we are going to chat about some simple ways you can bring hygge into your dorm room this school year.
1. You Must Have Candles.
Even if you don't light them, candles can bring the hygge feel to any space. Buy inexpensive pillar candles and group them together with pieces of twine or maybe even yarn. Maybe put a pillar candle inside an old mason jar with a wire handle for added effect. You can't go wrong with candles. "Wait!" you say, "the school handbook says no open flames, no candles!"

There are many really good LED candles that bring ambient light and cozy energy without the dorm room violations. Many of these are remote-controlled which allows you to go from caffeine-fueled student cramming for an exam to a relaxed hygge enthusiast sipping some tea illuminated by candle light at the press of a button. Check out this guide to flameless LED candles for more information.
2. You Can't Have Too Many Throw Pillows & Fluffy Lap Blankets.
It is a truth universally acknowledged that the most comfortable thing on the planet (besides fluffy socks) is a fabulously plush throw blanket. And if you can't afford one of those ridiculously awesome ginormous knit blankets like this one, that's okay. Any cozy, comfortable blanket will do. Add in several different sizes and shaped throw pillows and you're golden. Keep in mind, the goal is comfort, not clutter.
3. A Book Nook is Just SO Hygge.
You heard it here first. A well placed stack of books, brings hygge to any small space. Stack them on a table, use a cool basket or cart, or just stack them on the floor next to your favorite cozy chair. You don't get much more hygge than curling up in your jammies with a great book. Not every book in your hygge dorm room needs to be a textbook. Mix in nostalgic favorites, some guilty pleasures, as well as some aspirational reading.
4. Add a Plant. Succulents Count Too!
Bringing the outdoors inside brings a certain sense of zen and comfort to a room. If you can't handle a potted plant, try adding a cute and low-maintenance succulent to your desk. It will add a little hygge into the room for sure.
5. Set the Mood With Twinkle Lights.
Twinkle lights. Super inexpensive. Super easy to hang or drape around your bed, favorite chair, or that little reading nook you've been working on. Twinkle lights are the ultimate mood-setting decor. You can't help to feel a sense of happiness and wonder when your room is mostly dark except for the little twinkling lights.
Finally, when considering what to add to your dorm room to really get the hygge feel, remember that less is definitely more. You don't have a lot of space and clean lines and minimizing your items to only the things that truly bring you happiness and comfort is what true hygge is all about.